I'm Ronnie Elrod of Elrod Septic Service, LLC. You need to know that we have the best prices in Southwest Florida.
Sometimes the best business isn't located right down the street. What's important is that we come to Port Charlotte and we can provide you a better service and a better deal.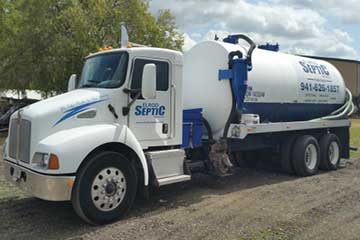 Rather Be Fishing?
Port Charlotte is at the heart of everything. We've got the Peace River waterway, the Charlotte Town Center, and Stone Crabs baseball at the Charlotte Sports Park. Additionally there are dozens of beaches in almost all directions. With lots of fun things to do I'm sure the last thing on your mind is getting septic service. But if it has been several years since you had a pump out, we encourage you to not wait until the last minute. Overflowing toilets can ruin your day.
Port Charlotte Septic Services
Every day we are pumping out septic tanks, doing septic inspections, or getting ready for another septic tank installation. Did you know there are over 80,000 septic tanks in Port Charlotte? We offer:
Mini-Sewers
Aerobic Units
Repairs
Lift Station Maintenance
Just had our septic tank cleaned out. Excellent service. They came before we had a major problem. We're fond of septic service company Elrod Septic. Thanks Elrod, customers for life. - Joseph H. of Port Charlotte
Free Estimates! Just Call
You can reach us for a free estimate at 941-626-1857. Use our contact form to the right if you prefer. Jim, our office manager will contact you to answer any questions you have.
Elrod Septic Offers Septic Service in Southwest Florida
From Arcadia to Fort Myers, and Everywhere In Between:
Punta Gorda FL, Port Charlotte FL, North Port FL, Arcadia FL, Venice FL, Nokomis FL, Englewood FL, Cape Coral FL, Fory Myers FL, and Surrounding Areas.